Student Anti-Gun Violence Protests Were A Teachable Moment For Some IE Teachers And Parents
Students from around the Inland Empire participated in this week's classroom walkouts and protests against gun violence. KVCR's Benjamin Purper reports the experience was a teachable moment not just for students, but also for parents, teachers, and school officials.
This week, thousands of students held walk-outs to advocate for stricter gun laws and to honor the memory of the seventeen people killed in Parkland, Florida – and Inland Empire students were no exception.
Students at John F. Kennedy Middle College High School in Norco held an assembly and walk-out of their own on Wednesday, March 15. Just as the young people from Parkland have become activists, so have the students here at JFK.
Sana Hashemi is a senior at JFK, and one of the student organizers of Wednesday's demonstration. "This movement, this cause, we're not only fighting for us, we're fighting it for everyone," she said. "We're not fighting for just our safety, we're fighting for the safety of, whether it's first graders who go to Sandy Hook, whether it's the high schoolers at Columbine High School, no matter what school it is, we're fighting for you, and we'll continue fighting for you."
Student organizers started the demonstration by reading names of people killed in mass shootings – including those in Columbine, San Bernardino, and Parkland. A group of about 16 students in orange bandanas led the assembly, speaking to their fellow classmates as school administrators looked on.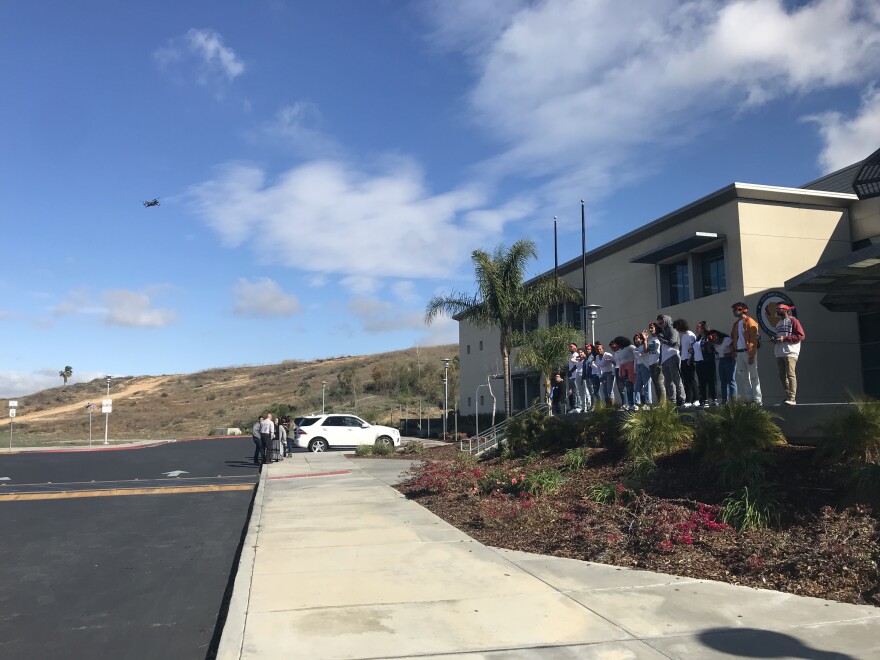 One of the students who spoke was Jolene Verdehyou. Her mother was one of the fourteen people killed in the 2015 terrorist attack in San Bernardino, and she felt that was a perspective she wanted to share with her fellow students.
"At first I was kind of hesitant," she said, "but then I was like, I feel like it will be a good thing to do, because a lot of people don't know my story. I think it's something for people to understand, that it could happen to anyone."
Several of the student organizers told me that this demonstration was just the beginning of their involvement with the movement. Student organizer Hasan Azam said they're speaking to the school superintendent next week to talk about guns, mental health, and school safety.
"We're not done, like this is just the beginning. It's not just the walk-out and that's it," Azam said. "We're going to meet with the superintendent, and we're going to work together to create tangible change on a local level, in our schools, to make sure our schools are safe. This isn't the end, you haven't heard the last of us."
Several parents also showed up to the demonstration. Rita is the mother of one of the JFK students, and she came to the walk-out with a sign reading, "This Mom Supports You All."
"Us adults need to speak up for our own kids," she said. "But right now it's the other way, the kids are speaking up for us."
Wednesday's walk-out was sanctioned by the school. The school's principal was in the audience for the assembly, and school security guards were on hand to keep everyone safe. Evita Tapia-Gonzalez, the communications director for the Corona-Norco School District, says the district is proud of the students' passion and maturity.
"On behalf of the district, we're incredibly proud of the level of respect and responsibility demonstrated by our students, and we're really proud of them," she said.
It's not clear yet what kind of policy changes this nationwide movement might affect. But as the students at JFK High School made clear, it's just getting started.