Friday 8/17: Holy Fire 83% Contained; Storm Temporarily Evacuates Cranston Fire Burn Area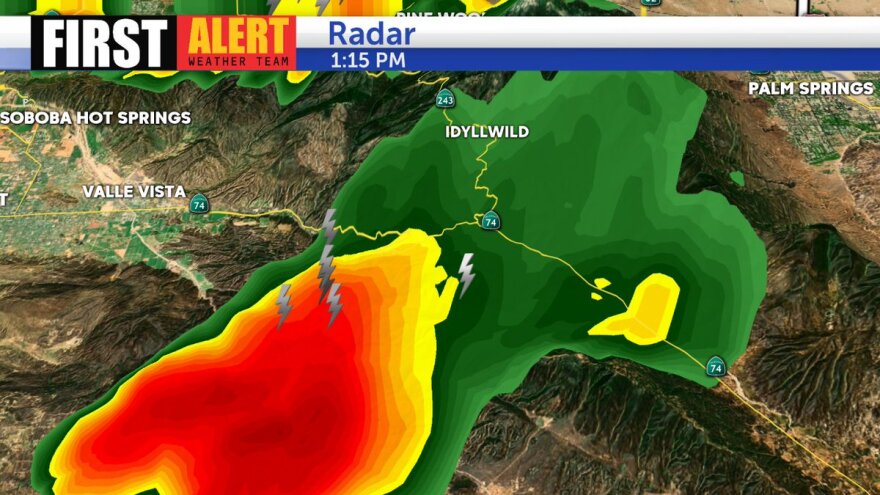 UPDATED ON 9AM FRIDAY, AUGUST 17, 2018
KVCR's Ken Vincent has this update of Inland Empire wildfire-related news, including from the Holy Fire, the Crantson Fire, and the Valley Fire.
Thunderstorms moved through the Inland Empire mountain communities Thursday, prompting warnings of debris and mud flows for residents living in burn areas of recent area wildfires.
In the San Gorgonio Mountains, there were online video reports of some flooding in the Valley Fire burn area near Forest Falls and Angelus Oaks along Highway 38.
In the San Jacinto Mountains, evacuations were ordered for most of the day Thursday for Idyllwild/Mountain Center area in the Cranston Fire burn area. Those evacuations were lifted later in the day.
The evacuations were ordered out of caution, as authorities are warning local residents of the possibility of debris and mud flows from the newly-barren slopes that have been burned surrounding populated areas. Those and other risks for the community will be discussed at a community meeting hosted by the Riverside County Emergency Management Department in Idyllwild on Friday evening, August 17 at 6:p.m. at Idyllwild High School.
In the Santa Ana Mountains, the Holy Fire burning west of the I-15 freeway is 83% contained, still holding at just under 23,000 acres. There are still 1,000 personnel working on full containment by Tuesday of next week, barring adverse weather complications.
Thursday morning, the man accused of intentionally starting the Holy Fire - 51 year old Forrest Gordon Clark - will be back in court in Santa Ana to say how he wants to plead to several arson-related felonies that, if convicted, could get him life in prison.
FOR MORE INFORMATION ABOUT INLAND-AREA WILDFIRE INCIDENTS, CLICK HERE